Athens Places of interest
Acropolis

The Acropolis hill is the crown jewel of Athens and all of Greece. With the Parthenon temple as its symbol, the Acropolis is truly a Wonder of the World, containing four ancient buildings. The Parthenon was built between
447and 432 B.C. and most of the artefacts from the temple are housed today in the Acropolis Museum at the foot of the ancient rock. [Metro: Acropolis]

The Theatres of Dionysos & Odeon of Herod Atticus

Just below the Acropolis hill are two ancient theatres that must not be missed the Dionysos and Odeon of Herod Atticus. The oldest of the Greek theatres, built in the fourth century B.C., the Theatre of Dionysos once hosted plays of Euripides, Aristophanes, Sophocles and Aesculus. Today, the theatres operate during summer months hosting top performers and artistes. [Metro: Acropolis]

The Ancient Agora

At the foot of the Acropolis is the Ancient Agora [market], known as the commercial and public centre of ancient Athens. During the classical age, such notables as Sophocles and Aristotle taught there. Thesseion, one of the most intact of the ancient Greek temples, is located at one end of the Ancient Agora. It was first built in 450 B.C. [Metro: Acropolis]

Plaka

Best described as 'the Old Town", the Plaka area is located in central Athens on the north slope of the Acropolis. Once the centre of nightlife activity, this 19th century settlement is now an excellent residential, dining and shopping centre. [Metro: Syntagma]

Syntagma Square

Syntagma Square, now recognized as the centre of Athens and from where to orientate yourself to thecity, is an acre large plaza filled with expensive outdoor cafes, trees and a fountain in the centre. On Sundays at 11.00 A.M. the evzones (Presidential Guard), accompanied by a military band, march from the Parliament building in full regalia, well worth a picture!. [Metro: Syntagma]

National Gardens

The National Gardens, located behind the Parliament building, offers a cool oasis during the heat of the summer. The park has dozens of walkways shaded by numerous trees. [Metro: Syntagma]





Zappio Hall

Inside the National Gardens is the Zappio Hall, which was built to be used during the first modern Olympic Games in 1896. The hall hosts a large number of cultural and commercial exhibitions. [Metro: Syntagma]

Marble Olympic Stadium

The all-marble stadium on Vas. Konstantinou Avenue (across the street from the National Gardens) was completed in 1895 to host the first modern Olympic Games the following year. [Metro: Evangelismos]

New Olympic Stadium

Completed in 2004 for the Athens Olympics, this state of the art complex is found in the northern suburbs of Athens [Metro: Eirini]

Presidential Palace

Formerly the Royal Palace, the Presidential Palace is located on Herodos Atticus Street behind the National Gardens. [Metro: Syntagma / Evangelismos]

Lycabettus Hill

The highest hill in Athens, Lycabettus, offers panoramic views over the city and as far as Piraeus and the sea. On the summit of the 912-foot high hill is a tiny 19th century chapel of St. George. Not far is a restaurant and coffee shop. You can reach the summit by foot, by car or by a funicular which operates from the Kolonaki side of the hill. [Metro: Evangelismos]

Other Archaeological Sites

• Philopappou hill
• Pnyx
• Roman Agora
• Keramikos Cemetery
• Hadrian's Arch
• Tower of The Winds,
• Roman Agora,
• Plaka
• Temple of Olympian Zeus






Book Online
or Call +30 210 8964901
---
Don't Miss
Vouliagmeni Lake
O
ne of the most impressive natural sights of Athens, only 3' walk from Vouliagmeni Suites
.
Marble Olympic Stadium
The all-marble stadium on Vas. Konstantinou Avenue was completed in 1895 to host the first modern Olympic Games in 2004
.
The Ancient Agora
At the foot of the Acropolis is the Ancient Agora [market], known as the commercial and public centre of ancient Athens.
The Theatres of Dionysos & Odeon of Herod Atticus
The oldest of the Greek theatres, built in the fourth century B.C
---
Why Athens
The land of gods!


• Acropolis - The crown jewel of Athens with the Parthenon temple
• Contemporary metropolis, buzzing with artistic flair, fine cuisine and vibrant nightlife
• Ancient Theatres, Museums and Galerries
• Sounio on Athens Riviera - Ancient temple of Poseidon
• Shopping experience to suit all tastes and budgets

---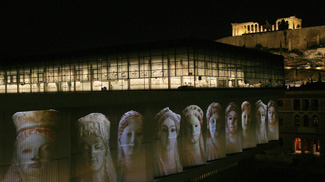 Acropolis Museum; one of the major archaeological museums in Athens ranked among the most important museums of the world
---